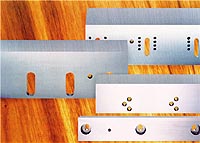 LANCASTER HARDWOOD SLICER KNIVES
Lancaster manufactures several types of Slicer Knives made from both Solid Steel and Composite materials according to customer specifications and applications. Lancaster Slicer Knives are specifically engineered for high yield, high quality veneer production, providing maximum stain resistant and shock resistant properties.

Greater Productivity Per Inch of Wear
Increased yield of square footage per inch of wear.

Greater consistency of veneer thickness with better overall veneer quality.
Less Knife Cost Per Inch of Wear
Tougher, more resistant to impacts from hard knots, rough logs and foreign objects.

No break out on the cutting edge.

Less down-time for knife replacement.

Less down-time for sharpening/honing - STAYS SHARPER LONGER.
LANCASTER HARDWOOD NOSE & SHEAR BARS
The Lancaster Hardwood Nose & Shear Bars are available in 5 different material grades. We can manufacture Nose & Shear Bars to suit every application and budget. Whether you choose our Premium grade Stellite our NEW Stainless Steel Nose Bar or our Economically priced Thru-Hardened solid steel bars you're assured of receiving the same Lancaster Knives quality.
LANCASTER HARDWOOD CLIPPER KNIVES
The Lancaster Hardwood Clipper Knife is manufactured with a fine grade of inlaid steel and engineered to maintain a keen edge, even under the most rigid conditions. As with our other Hardwood products we can manufacture clipper knives for most machine makes and models.
100% PERFORMANCE & SERVICE GUARANTEE
Lancaster Knives are guaranteed to be from defects in material or workmanship and to perform to, or exceed the commonly accepted standards of the industry when used in accordance with the accepted industry practice. Should there be any problem with the use of any Lancaster product, a representative will be sent to your location within 48 hours.